Free firewall: Kerio/Sunbelt Personal Firewall
ATTENTION: This firewall can no longer be downloaded and is not supported anymore!
Sunbelt Personal Firewall (formally Kerio Personal Firewall) is a well known and good free firewall. Sunbelt Personal Firewall makes it possible to block or allow any application accessing the internet. If an unknown application would like to have access to the internet, you are asked what to do in a clear manner, as you will see below.
For home users, Sunbelt Personal Firewall is free, however limited after 30 days. After installation, Sunbelt Personal Firewall works as the full edition. 30 days later it becomes the limited free edition, which does not provide the content filtering capabilities such as blocking pop-up windows, ads, VB scripts, cookies, etc. and other extra features.
Sunbelt Personal Firewall setup
The Sunbelt installation is straight forward. After choosing for Simple (No pupup mode), you won't be asked whether programs are allowed to go online or not. The option Advanced (Learning mode) makes it possible to block or allow any program to access the internet by asking the user with a popup. For maximum security, the last option is prefered but can be changed afterwards through the tab Intrusions, option Enable Application Behavior Blockking, button Advanced and switching all options to use existing behavior blocking rules or ask me. After a reboot you will see the bleu Sunbelt firewall shield. Opening the firewall, you will have multiple tabs with information and setting possibilities. The tab Preferences on the tab Overview at the left enables you to change the language. The option Web filtering can result in strange side effects and can be disabled on the tab Web.
The tab Network Security is the most important. The first tab Applications shows the applications which are allowed and/or blocked, as shown below. You can always change the settings here if you change your mind.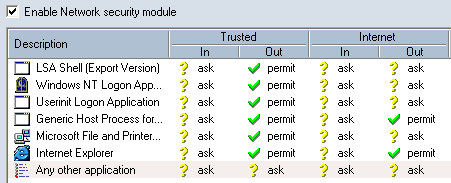 If an application tries to broadcast, Sunbelt firewall will come up with a message what to do. Here is shown how this is done with the Internet Explorer. Internet Explorer needs the internet to work, which means you have to select Permit. If you enable the option Create a rule for this communication and don't ask me again, you won't be interrupted anymore.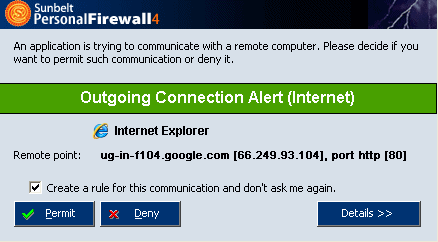 Trusted area
The tab Trusted area (tab Network Security) makes it possible to allow another computer in your network to access files and/or printers on your computer (if you have shared files/printers). This is done by the button Add, here is shown how to add the laptop in the trusted area.
After adding the laptop, the trusted area will look like this:

© 2001-2016 - Menno Schoone - SchoonePC - Rotterdam - The Netherlands